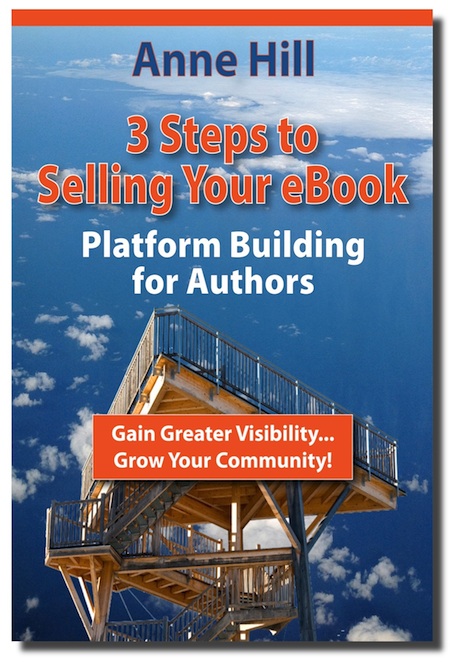 "Great tips from Anne Hill for authors getting started with ebook marketing."

—Joel Friedlander,
The Book Designer
Authors are in a new era where we can make a great living by connecting directly with our readers online. Publishing an ebook is easier than ever, but how do you sell it? With so many options available—blogs, websites, social media—and so much conflicting advice from experts, it is easy to feel overwhelmed.
In Three Steps to Selling Your eBook, I simplify it all with a 3-step plan for ebook sales. Each of the three steps is essential, and the book helps you look at what you are already doing for each step, with suggestions for fine-tuning as well as other options to try. By aligning your marketing efforts with the goals of each step, you can easily see where you are and what to do next.
Three Steps to Selling Your eBook is currently available on Amazon, Barnes & Noble, and Kobo.
Highlights include:
Four Big Lessons for Authors—Since signing my first book contract in 1995, I have tried every kind of writing, publishing, and marketing. Here I summarize my journey, and share the four most important things I have learned about publishing.
Three Steps to eBook Sales—Most marketing books sell you tips and tricks, but fall short on explaining how they all fit together. I give you the three main goals for ebook marketing, and give examples of many tactics and tips to support those goals—and result in greater visibility and book sales!
This is the first book in the Authors Go Public ebook series, co-created by Anne Hill and Suzanna Stinnett.
Buy the PDF ebook here for $0.99!