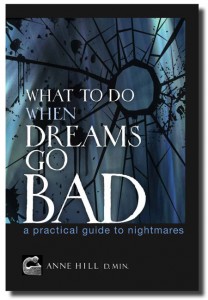 There are so many things you are probably worrying about right now—the Superbowl, the Superbowl ads, the primaries, the economy. Well, now relief can be yours, absolutely free! If you are an Amazon Prime member, download my popular ebook What To Do When Dreams Go Bad: A Practical Guide to Nightmares for free this weekend!
Here's what noted dream expert Dr. Robert Van de Castle says about my book:
Dr. Anne Hill, the author of this very well written and useful 62 page book, does an excellent job of surveying what has been discovered about these bad dreams. Metaphorically speaking, she describes what can be done to smooth out the ruffled sheets they leave behind on the bed, and how we can learn to work with these valuable and important messages so they can serve as springboards to improved self understanding.
It's a great guide to dreams, easy to read, full of really useful information, and it's free!